Space Business
---
Space Business is doing better than ever. According to Bryce Space & Technology (formerly Tauri Group), the 2015 Global Space Industry is $335B, and has been growing every year.
With lower cost to orbit, Moore's Law applied to any size satellites, barriers to entry are melting away and the floodgates are opening. A variety of Small-Sat Launch vehicles are coming on line and we will showcase some at ISDC. New business models are emerging for space development, drawing investment as risks are mitigated and opportunities expand.
---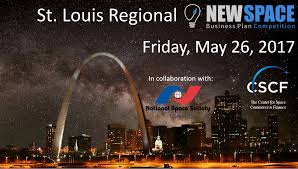 This year's ISDC includes the St. Louis Regional NewSpace Business Plan Competition. Conference attendees sit ringside for intense pitches from emerging space-scalable businesses.
Past competitors include Masten Space Systems (2006), Altius Space Machines (2011), Spire Global (2012), Flagsuit (2009), Generation Orbit (2013), Skycorp (2013), Elysium Space (2014) and more. The winner of this regional will go to the national event – and beyond
---
---
Clifford R. McMurray graduated cum laude from Wichita State University with a B.A. in Modern European History. His first career was as a systems analyst at MetLife Insurance, where he developed and maintained custom software systems. He graduated first in his class from the University of Scranton MBA program, then spent a postgraduate year studying economics and aerospace engineering as a Fulbright fellow in Germany. He is the founder and CEO of Antares Enterprises LLC, a professional communications company. A former Board member and Executive Vice President of the National Space Society, he has often served as business track chairman for NSS International Space Development Conferences. Mr. McMurray speaks and writes on aerospace and other science and technology topics in various venues. His articles and book reviews have appeared in every issue of Ad Astra since the summer of 2010
Professional investment manager, entrepreneur, and space technologies investor.
Steven currently directs investment decisions for two hedge funds – Woodridge Capital, and Viridian Fund, and is an Investment Advisor Representative for Fifth Point Advisors LLC.
He previously worked for proprietary trading groups and market makers on the Chicago Board of Trade, and the Chicago Board Options Exchange, and has served as Portfolio Manager for both fixed income and equity derivatives funds.
Steven is an active angel investor in several space-related companies. He is co-founder of the Space Finance Group – which assists space-related organizations in reaching their early-stage strategic and funding goals. Steven is also a Founding Partner of Space Angels Network, which has raised significant funding for over forty aerospace companies thus far, with more deals in the pipeline. Steven is a member of the Integrated Space Analytics team which recently revived and released an updated visual roadmap for space development known as the Integrated Space Plan. He has also been a speaker on the topic of space investing at numerous conferences and events, is an Advisory Board Member of the Lifeboat Foundation